I have spent the last five years of my life in France. I remember coming here like if it was yesterday. 

Why France?
 Why 

Garges

?
Like every young Czech ice hockey goaltender, I have played the game fantasizing of becoming the next Dominik Hasek. After several seasons in different part of Czech Republic and some experiences of roller hockey, like in Spain and in the World Championships, my career took a U-turn that I was not expecting…
In 2013-2014, after finishing my ice hockey season with the HC Pelhrimov, I found myself stock in a situation I did not want to be. I had no reel possibilities to play the game in the upper leagues and there was a lot of concurrence. I could have tried a couple more years, but the truth is my breakthrough never happened. I was not part of any Extraliga's team prospect pools, and I had no support from any team in the upper echelons. Only my dad was sponsoring my dream. He helped as much as he could while it was possible. Thanks to him I was able to live comfortably and focus only on my hockey. But I had no desire to go on this way. I did not want to wake up at 35, playing for the same team in the same beer league with a job that I hate. 

At that time, I already had a name in roller hockey. So I decided to try it out to see what was out there. We were in August 2014, I just came home from Toulouse, France, and the 2014 FIRS World Championship. I realize now how late it was to try find a spot in August, and I know I got lucky on this one. My year in Spain was pretty awesome, but I wanted to test out something that looked better and where the level was higher. I knew that the French Ligue Elite was considered the best league in Europe and in the World, so this is where I tried to land. I contacted five teams, and the 5 of them, rejected me… Rethel included…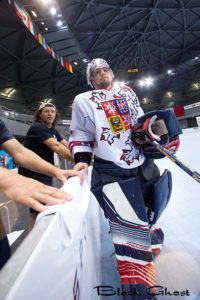 A little bit stressed, I contacted the FMT media group to see if they could help out. We got to know each other at the Worlds in Toulouse during the summer. After a couple of days, they came back to me and presented me for this team that won the N1 championship (the second tier in France) and won their ticket to the Ligue Elite. They needed a new goaltender and after some phone talks and text messaging with Erwann Rousseau (a goaltender in Garges), I had an offer that I decided to accept. 

August 2014, I was officially a Tigres de Garges and I was about to play my first season in France.

It is quite fantastic how things pan out time to time, because I was announcing the news to one my Czech buddy, when he told me that he, too, was about to play in France… Inevitably, I was thinking to myself, what about playing together? So once again, we found ourselves in discussions with Erwann and the team, and not long after we were officially teammates. You know that I am talking about Martin Fiala ! It was not over yet. Both of us started to talk to David Sem, and we managed to convince him to come in France to play with us. In just a couple of days, we made Garges, this new Elite team so much stronger. 

The energy in the locker room was unbelievable. Everything was working and I knew deep down that this year was about to be special. 
And it was. This first year was so special for so many reasons. Most of the players we had on the team, initially came from N3, which is the 4th tier in France. The guys managed to improve and raise their level of play and competitiveness year after year to go all the way to the Ligue Elite. Now that I know pretty well the world of French roller hockey, I know how tough it is to accomplish such rise. And to be honest, one of the first thing that awe-struck me, coming in France was that the guys were only training twice a week… At least, Garges put us in ideal conditions. We had everything we needed to train as much as we wanted to.
The team, Martin, David and I, were like kids discovering our new toy. Three new foreign players, Baptiste Bouchut came in as well… The excitation was all over the place.
For us, it was our first year, but we were not there just to be acting parts. We wanted to be among the main actors. We wanted to win something. When I think about it, this energy carried us the entire season. We finished second in the standings in our first year, which was definitely an accomplishment, but the best was that we managed to beat Rethel; it was the climax of the season. We were the first team to beat Rethel in two years. We were proud, we knew we did something great, something huge. Our season was not just a fluke. 
Unfortunately, our season ended in the Playoffs semi-finals. We lost against Angers for pretty much nothing. Anyway, our season was very successful, and we all kept nice memories of it.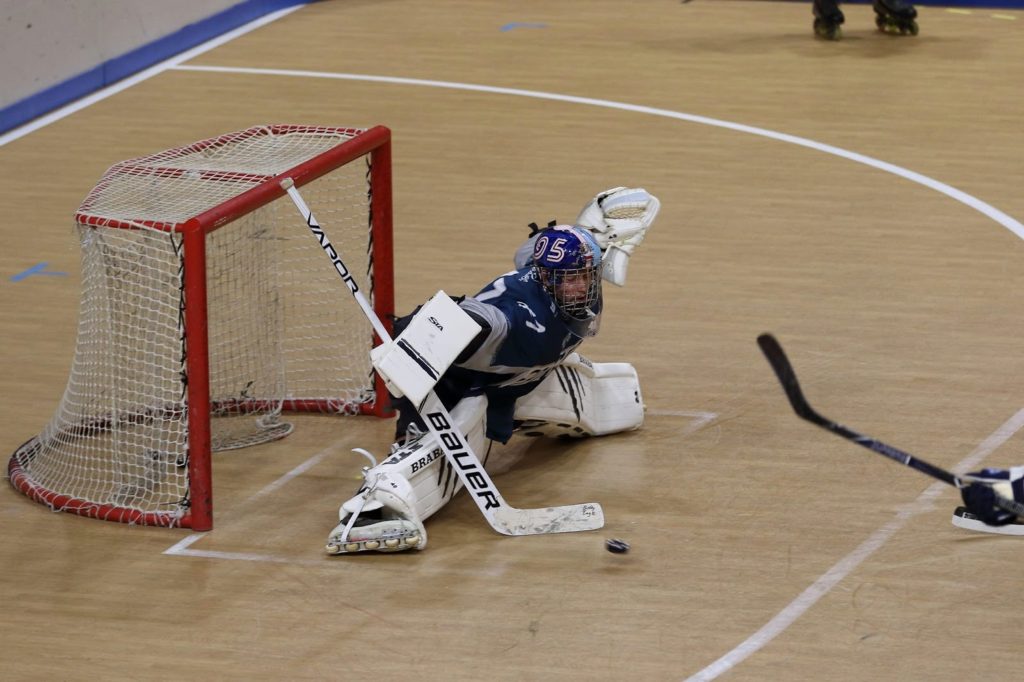 Let's jump to my second season. After the first season, we knew we had everything to win. We could go all the way. However, nothing came as we wanted and my second season was a disappointment for me and my teammates. We lost in the quarterfinals against a good Paris XIII team. As I remember it, we played Paris at least four times this year and we won pretty much everyone of them without any hurdles. But this time we lost. The most important game we managed to lost. I don't want to give any kind of excuses but the week before I had kind of injured Martin at practice and then the day after I had gotten sick… I came into the game not feeling great, and I got scored on six times. One of the worst games ever. We lost and I was not happy, I did not feel great about it and the season in general. I knew we had the team to go far, but we did not. 

Paris surprised everyone, and they lost in three games against Rethel, which was definitely not expected, so good on them, great job. 

Next season, 2016-2017, my third season in France. To be honest it was a pretty good one despite winning nothing. Julien Thomas (one of the best D out there) signed with Garges from Rethel ; Adam Pribyl, another young Czech came in as well and Maxime Langlois finally reached his full potential and for me Max is clearly the best French player right now. We played the European League, and we lost in the Final against Rethel. We went all the way to our first Ligue Elite finals, and we lost again against Rethel. Ok, we lost, but we lost in finals. We were happy with our journey. We were proud. Deep down we knew there was only one more step, only one team to beat and to beat that team we knew we had to play the perfect game to win this cup we wanted so bad. There were no more excuses now, the experience, we had it. Two finals lost against Rethel, it was out of question to lose a third one. Third time's a charm.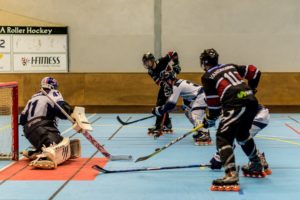 June 2018… That's it. I am a Ligue Elite champion. I have won the pinnacle of French and European roller hockey. We beat Rethel. We are finally crowned. 4 years to get there. As many years it took Garges to climb the French roller hockey ladder all the way to the Ligue Elite. 

But let's jump back to the beginning of the season. One of the first big news was that after Julien Thomas, Karl Gabillet decided to try his luck with Garges and his buddy Julien. Karl was one of the top players in France. Best scorer, two years in a row with Rethel. Max (Langlois) and Karl were used to play together in the French national team. With this addition we knew we had the team, we had all the pieces in place to get the job done. 

We did it! It was really important for us and especially for Hervé Langlois. Hervé is the father of Maxime and Guillaume and is the president of the Tigres de Garges. He is the one who gave me a chance to realize some of my dreams. He is the one, who made it happen for Martin and me. We wanted this cup so bad for him. We wanted to make him proud, and we were not alone. Julien, Karl, the Sorres' brothers, Max, Guillaume, we all did it for him. To see the tears in his eyes when he lifted the cup was magic, it was a blessing…
Why 

Rethel

?
To be honest, at the end of the season, I was very tired. If you count the 2017 Roller Games in Nanjing, I had completed two entire seasons playing in eight major competitions without a break. I was tired as hell and the inevitable happened. I got injured. The first serious injury of my career. I found myself in a standstill waiting for surgery, but nothing came. For some unknown reasons, everything became complicated for me to get the surgery I needed. I had to cancel my plans and got forfeit for the 2018 Sparta Cup as well as the 2018 World Championship. I flew back to Czech Republic to receive the appropriate surgery and treatment and it pushed everything away, my rehab and therefore the beginning of the season. I felt so much alone and abandoned at that time…
Talks about my contract extension had happened with Garges prior to the finals. I wanted to stay. I was ready to stay for less. But at the same time, I knew that Rethel was waiting on me. The first time that Rethel came with an offer, I pretty much said no right away. But they kept trying and asking for me. My injury speed up the whole process. Garges is a nice and family-driven team, but not professional enough to handle correctly the injury I got. I had been in France for 4 years and when they were supposed to work on my insurances and documents, I had to wait a week and another week and another week again. I have lost my World Championship with my country because of this. Moreover, I knew that it was about to be complicated for them to resign everyone of us. When Rethel came back, it was impossible to say no to their offer and I signed it…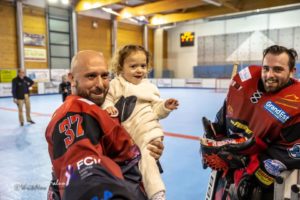 Today, I am a Diable (a Devil), but I don't forget the years spent in Garges. Hervé is one of the nicest people that I have met in France and in my life in general. It was an honor to play for him and to win the championship for him. He was like a second dad to me. I will always be there for him. He and his family were amazing to Martin and me. They helped us so much, taught us the French way of life and the language. I am thankful to Guillaume especially, who had to handle some of the troubles we had with Martin. I want to thank my teammates in Garges. You are a great team. I want to thank my fans who have been there at every game. Today some of you are among my friends and I deeply care about you. 
Now it is time for me to turn the page and look forward to the next seasons in Rethel, where I have found a second family.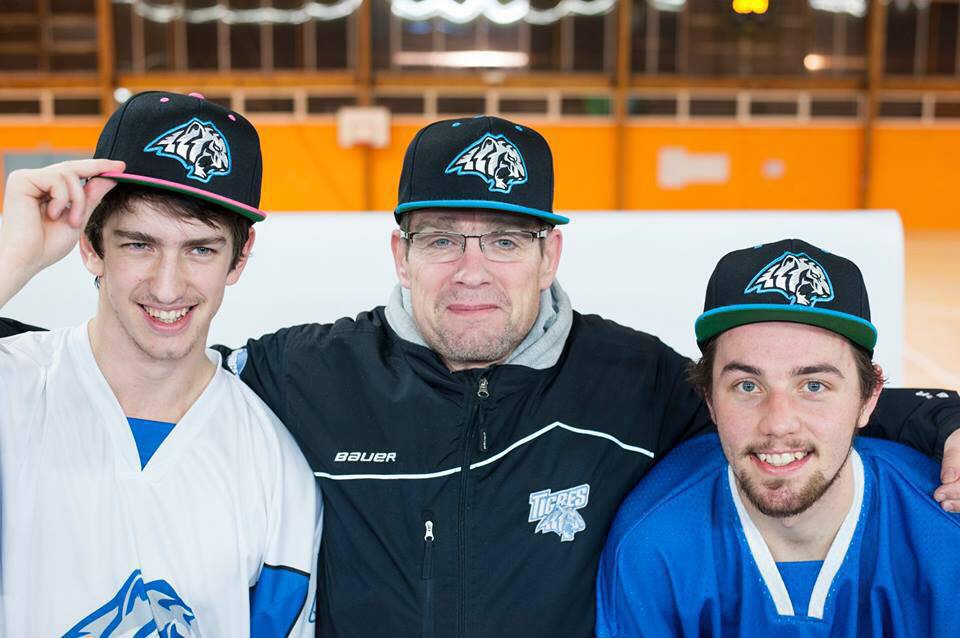 Thank you the Langlois, Thank you Hervé… Thank you Garges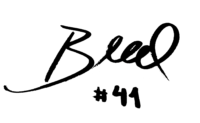 ____________________
Daniel Brabec #41