[tps_title]English[/tps_title]
While the Senior Team France has just been crowned World Champion for the first time in history, the U20s have managed to do it for their second time in 3 years, after Toulouse 2014. For that matter, we went to chat with four U20 World Champions, Joan Kerkhove (Grenoble), Bryan Sautereau (Angers), Lucas Discazaux (Caen) and Marius Godano (Tours).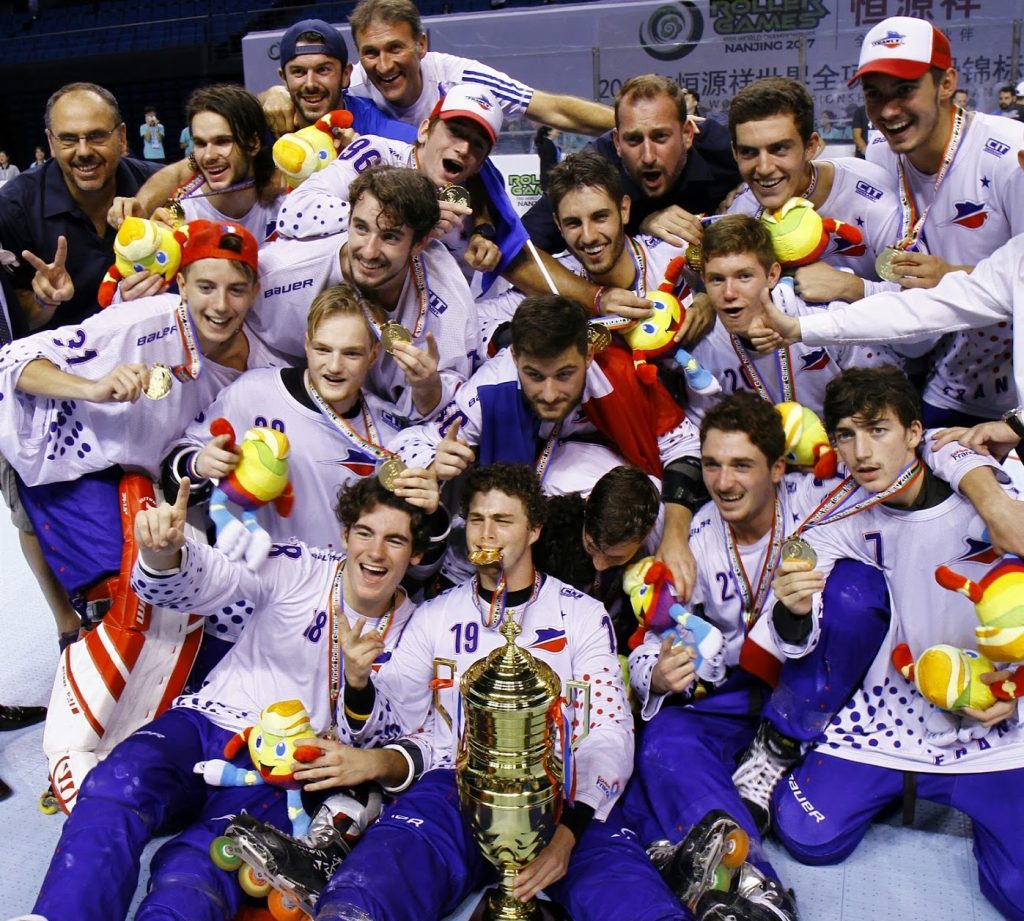 If the first two are already playing in Elite, Lucas has just been announced in Caen for the next season. For Marius Godano, probably the most titled French junior in history (2 World Champion (2014/2017), 1 European Champion in 2015 and Vice World Champion in 2015), he is patiently awaiting the next step in his studies in order to combine both the Ligue Elite and his studies.
These four players have been together for more than 3 years now and have had a lot of successes together, which now translates into a World Championship title conquered with the manner and some swag.
You have been European champion in 2015, and now World champion, do you realize what have you accomplished?
Bryan Sautereau: Yes, we have. We were together for the European title and to relive such experience again with the gold at the end is just incredible and crazy. But I do not realize it yet, but I will at some point.
Joan Kerkhove: Yes, we were together for the European title in Roana 2015. Going so far in China for the Worlds with the same team and becoming World champion together it's just amazing.
Lucas Discazaux: When I was younger, I would not have imagined being one day World Champion. Now I am, and I am part of the best team that there is in the world. It's just surreal.
Marius, you are probably the most titled French Junior. Do you start to realize how great this is? In comparison to the 2014 group, were there any differences between those two teams?
Marius Godano: It's hard to realize when it happened, but now it starts to sink in. Personally, since I got back, people are only talking about this, on social media and all that. We have accomplished the biggest accomplishment in our sport.
In 2014, it was completely unexpected. We had the title in mind but nobody had ever done it, it felt like it was impossible. This year, it was different; we wanted a revenge on last year finish (5th) and since our 2nd place in Roana 2015, we had really worked for that. In 2014 I was the youngest and this year I was the more experienced, so I did not live it the same way.
What were the objectives entering the competition and was the gold among them?
B: It was definitely the goal we had somewhere in our mind. But the main goal was to compete I at least. Of course for the color, we all wanted the gold.
J: Our goal was to do better than last year 5th finish in Asiago. We wanted to bring back a medal, to go the distance and we did it.
L: It was to be among the last 4 and bring back a medal. The gold medal was the one we were competing for and we did not miss our target.
M: We talked about it; we worked for it, and I think that the gold was the only thing we had in mind. We are now among the best nations of the game in Junior. We have three finals in 4 years and with that come the fact we have to compete for the title. The more we were advancing into the competition, the more we felt confident and the goal we had, took more and more place in our mind.
Joan and Bryan, you both have been fully integrated into Ligue Elite teams now. How did it go this season, and how did it allow you to prepare better for the National team?
B: It was a rough start for me as I was the 7th forward, therefore not a lot of playing time. But I worked hard to be in the top 6th that was playing. It allowed me to get stronger mentally and physically. That was definitely good preparation for our National team camps.
J: My debut with Grenoble has been really great. I played on the second line and on the power play so I was getting a lot of playing time. I think that playing at the Elite level against so many great competitors like the Americans, the Czechs, and the Senior French national players, is a great preparation all year long. After that, we had a special preparation to follow for Team France in order to be ready for camps and the world championship.
Lucas, you have just been announced in Caen for the next season. What does it mean for you to get your chance in an Elite team? You have chosen Caen also because of your studies. When you looked at your options, was the Ligue Elite a factor in your decision?
L: The French Ligue Elite is the highest level and I have a bit of apprehension. I need to be ready because everything goes faster and stronger. I am proud of being part of the Ligue Elite and it is also a family pride.
For my studies, I had the chance between Bordeaux and Caen. Since I want to become a physiotherapist, the fastest way for me was to choose the Sport faculty of Caen. The team in Caen has a great Junior program that can reach the Junior Elite championship and a lot of different infrastructures. So yes, it has weighed in a lot in my decision.
Marius, you are playing in National 1, the second tier in France. Is the Ligue Elite a goal of yours? And in your future study decision, you look at the feasibility to fit in an Elite team?
M: It is always a goal. We are competitors. Like Joan, Bryan and Lucas, I want to be on top of my game. Of course, I look at the options that I have, and even though I can not because of my studies, it is a goal of mine for the next season or maybe in two years from now.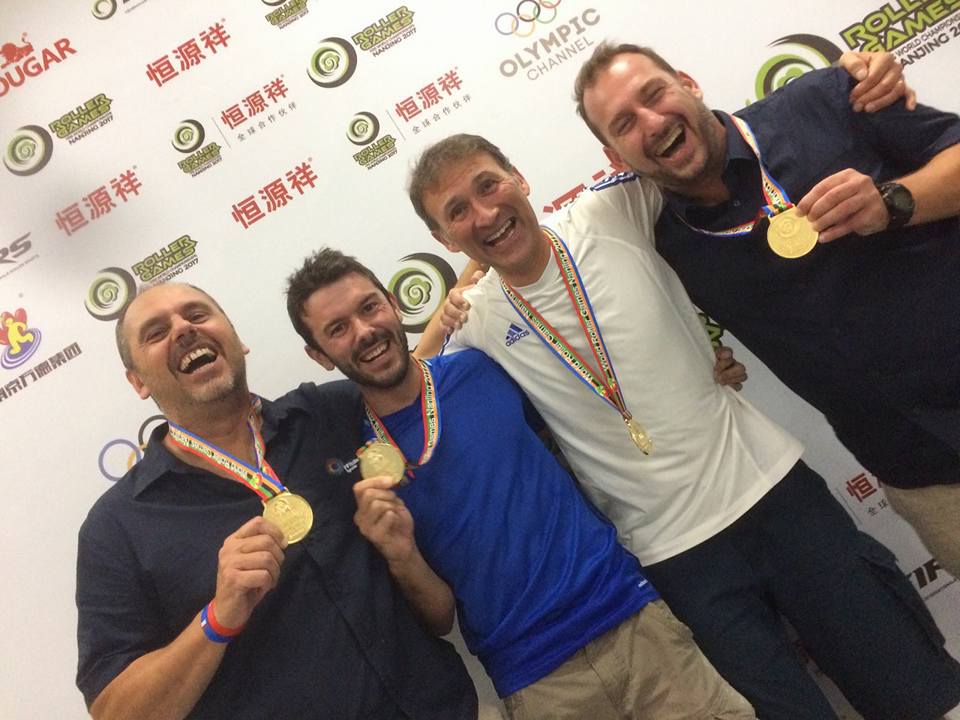 Bernard Seguy and Eric Perraudin have created a national program, which has proven to the world the value and power of the French Roller Inline hockey. As players what would you like to tell them? What would you like to say to the future generations who are just contemplating you as World champion?
B: I think we can only thank them for what they have brought to us, for what we have lived on the rink and outside. They know how to make us work hard, but they also know when to laugh and relax. We would have never lived such experiences without them.
For the next generations, you need to work hard, you have to listen to your coaches because it is only for our own benefit.
J: I want to thank them personally. They have allowed me to perform better. They have more requirements than in our own teams but it is logical since we are playing in the highest competitions.They have a way of doing things and playing techniques that are different from our usual coaches, which have allowed us to see new playing styles.
I want to say to the young players; you need to always work even though it is hard. You have to keep pushing, to believe in yourself and most importantly is to have fun while playing.
L: Their playing systems are very relevant and efficient. They know how to adapt our playing to the other teams, which allows us to always overcome complicated games. Moreover, they bring such a great atmosphere. Thanks to them we are really a tied group and give the will to practice that we do not have in other teams. I want to say thank you, Eric and Bernard, for these amazing weeks of competitions.
For the new generation, I wish them the same experiences. Most importantly get prepared, the level of Inline hockey is getting better, notably with new countries getting into it like Sweden for instance. It is not because they are great ice hockey nations that you have to fear them.
M: Today it is really their victory. They have put means in place for us to be in the best conditions possible. They have pushed us to play our best hockey, to battle for our place. We have learned so much thanks to them and especially at this World championship. We have grown so much.
As for me, it was my last year as a Junior, and I want to thank them because even though it is a lot of hard work and sacrifices, I have probably lived the best experiences of my life so far, and this has no price. To be able to live such experiences with these coaches and teammates, with this family that is Team France, will be unforgettable.
For the next generations, I would like to tell them that it is a long road full of hard work and self-sacrifice. You will go through pains, ups, and downs but if you do it right it will pay off soon or later. Don't let go, everything is possible.